September 1999, United Nations, New York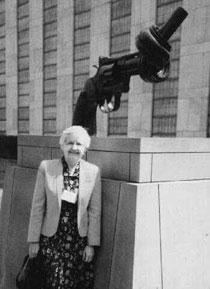 The Economic and Social Council (ECOSOC) of the United Nations has granted 'special consultative status' to Conscience and Peace Tax International this week at the UN headquarters in New York.
ECOSOC was established by UN Charter and is comprised of 54 member nations. It promotes economic and social development and the protection of human rights and fundamental freedoms. ECOSOC has previously granted special consultative status to organizations such as Amnesty International, the American Bar Association, Christian Aid, Mercy Corp International, Pax Christi International and the Simon Wiesenthal Center.
The NGO application of Conscience and Peace Tax International (CPTI) was presented by its Vice Chair Ms. Marian Franz. We are grateful that ECOSOC has recognized the importance of the fundamental right to freedom of conscience and religion, said Ms. Franz, we hope that CPTI's participation in ECOSOC meetings will help promote alternatives to war.
The principle of conscience, a moral imperative governing the behavior of an individual - and an internationally recognized human rights principle - is central to the objectives and work of CPTI, Ms. Franz told the ECOSOC meeting. Members of ECOSOC also explored with Ms. Franz the nature of CPTI's past and future contribution to the United Nations.
ECOSOC member states warmly received CPTI's application. In his remarks supporting CPTI's application, the representative of India commented I thought that conscientious objection was dead and rejoice that it is very much alive. Ms. Franz completed her presentation and had not yet returned to her seat when the ECOSOC meeting unanimously agreed to the special consultative status.
With its new special consultative status, CPTI may now designate representatives to sit as observers at public meetings of ECOSOC and deliver written and oral presentations.